Are you confused about what startup business to launch?
Maybe you just want to streamline your ideas to solve a specific problem. Launching a startup generally takes a lot of ideation, planning, and brainstorming.
However, to succeed in whatever line of business you choose to venture into, you need to create something innovative.
In this article, we'll look into ten startup businesses, and hopefully, they'll inspire you to create your own.
Startup Business Ideas
1. Bakery Services
The bakery business is a very vast market. You can choose to specialize in selling equipment, food products, or even recipes. For products, there is also a wide range to choose from.
For example, you could choose to specialize in pastries or cakes. You also want to be sure of what your branding is.
In our example below, Miss Jones Baking not only sells ready-to-bake dough and frosting, but her entire brand is helping at-home bakers work efficiently. These pre-mixed ingredients are her unique selling point. Her slogan is 'Building a Better Way to Bake'. She also shares recipes to help her clients make the best of their purchases.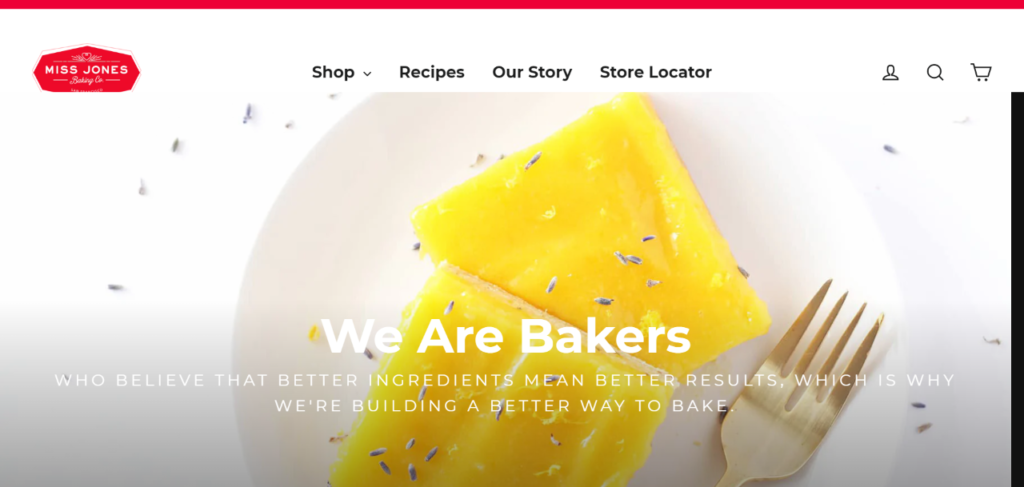 The key takeaway from this business is that it has a homely approach. The brand name is also super personal and fits perfectly into what its mission is. So whether you'd want to open up a physical store of ready-to-eat baked goods or the essentials required to assist with baking, this is a great example to draw inspiration from.
Recommendation – Generate business name ideas for your bakery business here
Pro Tips
Choose a bakery format – e.g., a food truck, store, home bakery, etc.

Start creating samples first to find if there's a product-market fit for your goods.
2. Pet Care
If you'd like to start a business and you love animals, you might want to consider launching a pet care business. While animals might seem like a lot to handle, once you love what you do, the process will be a lot more seamless.
There is a broad range of pet care businesses you can venture into and they don't have to be directly vet-related. You could do a pet sitting service, dog walking, dog training, grooming, photography and so much more.
In our example below, Dogtopia is a pet care business that specializes in Dog daycare, boarding, grooming, and spa. They understand the needs of dog owners and so they focus on providing extra care and dog sitting during travels and extended stays.
What we love about this business isn't just the super cool business name or how they specialize in one animal. It's the attention to detail and how well they present their benefits. They are also very detailed and so every question you might need to ask is clearly explained on the website.
Recommendation – Use the Pet business name generator to jump-start your business.
Pro Tips
For starters, try to specialize in one type of animal. This will help you manage things more efficiently.

Think about the basic needs of your target market and start building your idea from there.
3. 3D Printing
3D Printing is a technology that's been around for a while. However, there are still not enough businesses maximizing this. Asides from having this as an advantage, 3D printing is also a cool business to venture in. However, you'd want to find innovative business ideas to work with.
For starters, you can choose to produce B2C products like customized collectibles or B2B products like detailed promotional items. 3D printing is also used in medical fields to create prosthetics, pills, and medical implants. You can choose to create rapid prototypes for technology, customized fashion items, or custom-made tools for manufacturing industries.
Fictiv is a 3D printing business that helps manufacturing companies design the right parts for all types of innovative machines. They focus on providing custom designs for the aerospace, automotive, robotics, medical, and consumer products industries.
Asides from the design production, this company also creates an extensive resource library for anyone who would love to learn 3D printing. They host frequent webinars and podcasts, create books, articles, and they even have a masterclass.
So if you're skeptical or limited by your resources to start a 3D printing company, you can consider teaching it to others and doing a business out of the training you provide.
Recommendation – Generate 3D printing business names with our generator
Pro Tips
Start by educating yourself on the details of 3D technology – watch videos and read books.

Look into your local demand first when looking for a target audience. This will help you scale later.
4. Design Services
If you've had experience in offering design services in the past, starting a design business is worth looking into. However, this means that you'd have to put extra effort into marketing yourself because your clients would want to view your portfolio before doing business with you. This is why you have to make every business count.
There's also the misconception that you should always offer website design as a service. However, there are other services you can offer. For example, you can offer graphics design, video, branding, and even digital products.
CreateApe is a digital design agency that offers branding for websites, marketing, and even digital products. They have a section dedicated to showcasing their past work and they go heavy with testimonials. We also love their brand name – it's catchy and memorable.
Recommendation – Generate business name ideas for your design company with this generator.
Pro Tips
Design client's work based on trust – find ways to show that your business is credible.

Don't focus on receiving repeat businesses at the expense of creative opportunities.

5. Landscaping
Maintaining a yard is a lot of work and that's why many homeowners find ways to outsource their lawn care. It's why the landscaping business is booming. And so if you like keeping a healthy lawn or you just love doing general yard work, this is a business you should consider venturing into.
You have to first start with thinking about the exact services you want to explore. Do you want to just take care of grasses or you're open to removing trees as well? Would you prefer to work in residential or commercial areas? This will influence the type of equipment you need and what else you'd be required to set up.
House of Yards is a startup that focuses on providing yard service plans for its customers. Since their target market is people in residential areas, they link landscapers with people in need of them through their matchmaking lawn service app. Users in need can simply go on the app and book a landscaper whenever they need one. So try to think about innovative ways to break into the market just like House of Yards.
Recommendation – Find Landscaping business name ideas here
Pro Tips
Instead of buying new equipment, rent them. It'll require less maintenance.

Research on employment liability laws and insurance before starting out.
6. Beauty Services
Do you love making people look more beautiful? Perhaps you've perfected the key to getting flawless skin and you'd love to share that with others. The beauty industry might seem like a very saturated space, but finding a specific niche will help you scale faster. So this could be makeup, body creams, lotions, brushes, lashes, or even nails.
Everybody is a brand that provides high-tech beauty services like microblading, laser treatment, and other types of cosmetic dermatology. Asides from being a completely specialized beauty field, they combine it with a product regime. You'd succeed in this if you have experience in dermatology. 
If you don't, spend time thinking about the problems in your target market and how you can solve them. You should always start with something you feel a connection to. That's how you can truly empathize and be authentic in the market.
Recommendation – Generate Beauty business name ideas with our generator today
Pro Tips
Validate your idea by researching if there's a true demand for your product.

Conduct competitor research so you can find opportunities to explore.
7. Clothing eCommerce Store
In the fashion industry, there's still room to start your own business especially if you've been considering a clothing line. However, it also requires a lot of creativity and effort.
For starters, you'd have to find a market for the type of clothing line you're ideating. Does anyone love your style? Also what age group or gender are you trying to sell to?
In our example below, Kirrinfinch found a market with a need- gender-neutral clothing. And so, by challenging industry norms on what is termed men's and women's wear, they just focus on creating a piece of clothing that fits.
So spend time looking for a specific niche for your clothing line. Would you like to work with gender-specific clothing? Or perhaps you'd want to focus on time capsule items like vintage clothing. What about costumes? Once you get this out of the way, you can then start looking for wholesalers and finalizing the specifics of your business.
Recommendation – Generate Clothing Business Names Ideas with our Generator
Pro Tips
Trademark your business name as the fashion industry can be quite competitive.

Rather than focusing on a broad type of clothing line, be the go-to business for specific types of clothing.
8. Healthcare and Fitness
Asides from helping people stay fit and healthy, the fitness industry is a very lucrative business venture. So if you're a fitness junkie, don't just get gratification from helping people meet their fitness goal, it's time to start a fitness business. Since there are many types of businesses you can start in this field, spend time thinking about what you'd really prefer to do.
For example, would you prefer being a personal trainer to operating your facility? As a trainer, you only need thorough knowledge of exercises and nutrition. But it wouldn't cost much to set up when compared to running a gym. However, if you have enough funding to start your own facility, you'd need to lean towards the expertise of other trainers.
You could even choose to mix both. Crossfit is a personal training and gym facility that provides a space to exercise along with professional trainers to help you meet your fitness goals. So you'd see that there's a reliance on the expertise of the other coaches.
Also what specific exercises would you like to offer? Are you considering weightlifting, running a spin class, Zumba, yoga, or a mix of all?
Recommendation – Get over 1000+ name inspirations for your Gym and Fitness business
Pro Tips
Get a fitness training and certification so you can know the basics and convince people that you're actually good at it.

Research into what the necessary permits and insurance are.
9. Decluttering Services
This is a type of business that requires enough passion to run because helping people clean has to be something you genuinely care about. It's time-consuming and requires a lot of effort but one pro is that you see the immediate impact of your business.
Although it's not expensive to launch, your clients can be inconsistent with the amount of work they require your team to help out with. However, you'd have higher retention compared to other businesses. You have to figure out what type of organizational service you'd want to focus on. Like would you want to only organize homes or businesses too?
Ohsoorganised for example prefers to work with all spaces. They also offer a range of services that includes decluttering, moving, updating inventory, unpacking, sorting deceased estates, and other organizing solutions. So you can choose to add more or use their methods as an inspiration for yours. We also love the catchy business name.
Recommendation – Get decluttering and cleaning business name ideas here.
Pro Tips
If you have a decluttering service, invest in referral marketing.

Build your portfolio by doing sample projects for those you know.
10. Travel Business
Are you so meticulous? Do you love organizing travel experiences for yourself and others?
Then starting a travel business is an excellent sector to look into. And although it's a very competitive market, you can still be successful by conducting thorough market research and finding your niche.
For example, are there couples who'd rather have an adventure destination honeymoon experience? Would you like to look into non-mainstream destinations or just luxury experiences?
Sherpa is a travel business that provides the travel identification requirements you'd need to travel to any country in the world. This business understands that guidelines and requirements differ. So by providing a central place where you can access this information, they provided a unique solution in the travel industry.
Recommendation – Get Holiday and Travel business names with inspiration from this generator.
Pro Tips
Develop a strong brand image to stand out from the crowd.

Start forming partnerships around the world as they'd come in handy.
Conclusion
Finding the right business that merges your passion, skill and interests might be a hassle. We hope you use the examples in this post to draw up some inspiration for your next business. Found an idea you're willing to work with? Give it a business name to make things official and start your growth process today.